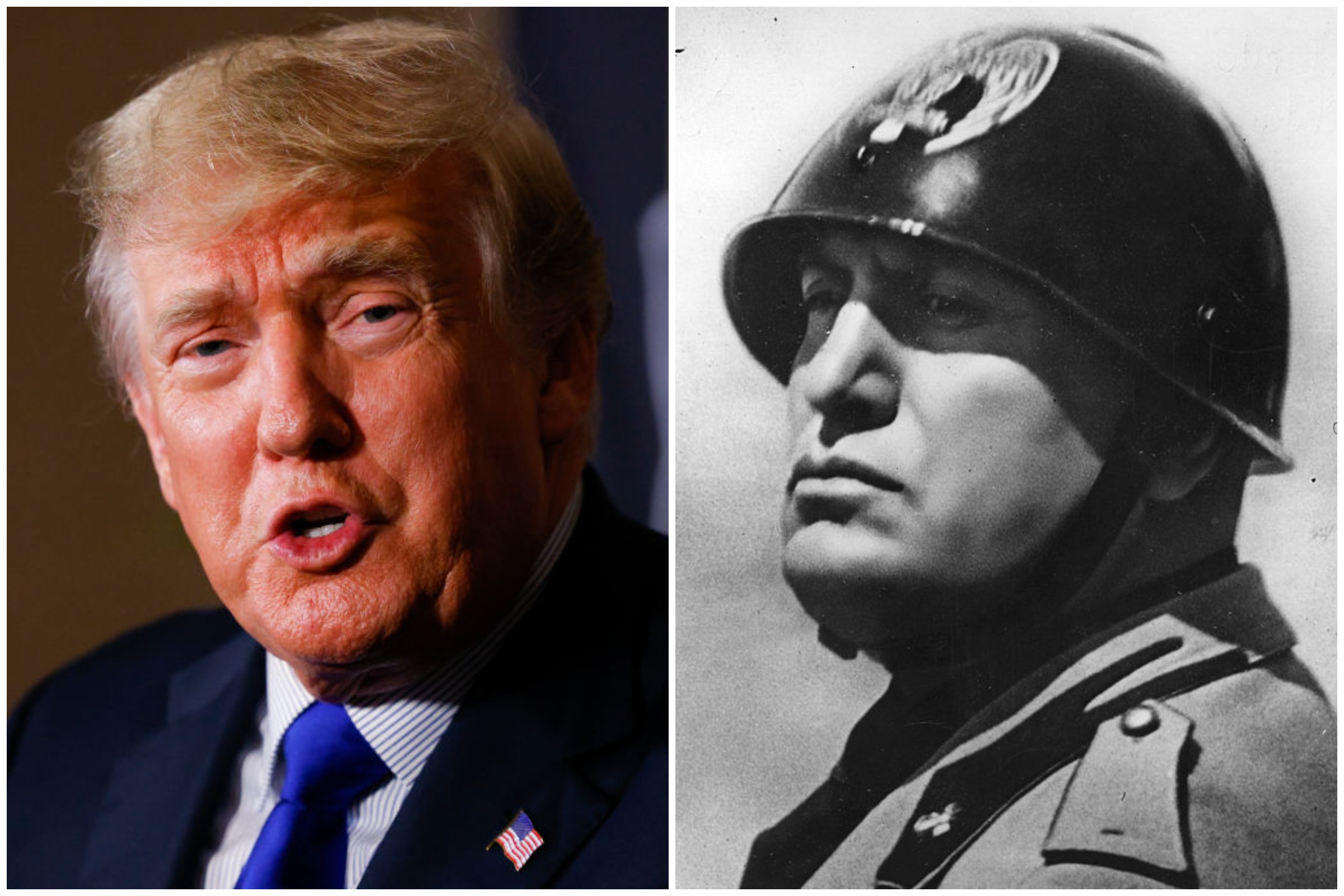 YouTube has removed viral QAnon videos that promoted the false claim that Donald Trump is the nephew of fascist dictator Benito Mussolini.
The two-part conspiratorial Jesus Strand series, uploaded in October 2021, racked up more than 300,000 views on YouTube until it was removed last week after Newsweek alerted the platform.
In the videos, Dallas QAnon leader Michael Protzman and other conspiracy theory influencers, who between them have tens of thousands of followers on social media, promoted numerous bogus beliefs, which included that Trump was related to the infamous Italian dictator.
Read more
Over a series of increasingly fantastical claims, the hosts in the videos claimed Jesus Christ had numerous descendants, including assassinated presidents Abraham Lincoln, John F. Kennedy and World War II General George S. Patton.
Further bizarre claims made were that Trump was secretly the son of General Patton, thereby also a member of Christ's bloodline and was the nephew of Mussolini.
One conspiracy influencer said: "Our beloved President Donald Trump is a general like his father George S. Patton, a builder like his uncle Benito Mussolini, and a unifier like his great grandfather Abraham Lincoln."
In the clip, Mussolini's dictatorship is whitewashed with claims his imperialist campaigns in Africa were done to improve the standard of living in Ethiopia and Libya.
But in reality, Mussolini's campaign's in Africa underpinned the expansionist motives of the Axis powers ahead of World War II, and resulted in the deaths of hundreds of thousands of civilians.
The conspiracy influencers further claimed the banking Rothschild and Rockefeller families are among numerous groups who are hunting down members of Christ's bloodline.
In a bid to connect the outlandish beliefs, the influencers referred to gematria, a form of numerology that connects words or phrases to a number sequence.
Through this practice, Protzman linked the words (such as Jesus) to phrases and words associated with the QAnon conspiracy theory.
Protzman has continued to use gematria with his followers who remain in Dallas after they descended on the city in November last year in the hope of seeing John F. Kennedy alive, despite him having died in a plane crash back in 1999.
The claims made in the video series about Christ's bloodline have no basis in fact and are not seriously considered among any of the major Christian denominations.
After Newsweek approached YouTube with information about the QAnon references in the video, part one of the series was removed, although part two remained on the platform.
Since 2018, YouTube has removed tens of thousands of QAnon-related content and accounts as it considers the online movement to be "used to justify real-world violence."
A YouTube spokesperson said in a first statement sent to Newsweek on December 30: "We removed one video flagged to us by Newsweek for violating our harassment policy, which prohibits content that targets someone by suggesting they are complicit in a conspiracy theory that is used to justify real-world violence, including QAnon.
Read more
"We enforce our policies rigorously and since 2018, we've removed tens of thousands of QAnon-videos and terminated hundreds of channels."
Newsweek then sent an additional message to YouTube, which mentioned cases where QAnon references were made and part two was later removed on January 4.
In a second statement, YouTube told Newsweek: "Upon further review, we removed the second video for violating our harassment policy."
While the viral videos have been removed, Newsweek has found the clips have been re-uploaded by smaller accounts back onto the platform.
The Jesus Strand video series has also been found on the online video service Rumble as well as being shared in Telegram groups linked to Protzman.
Newsweek has contacted YouTube and Rumble for further comment.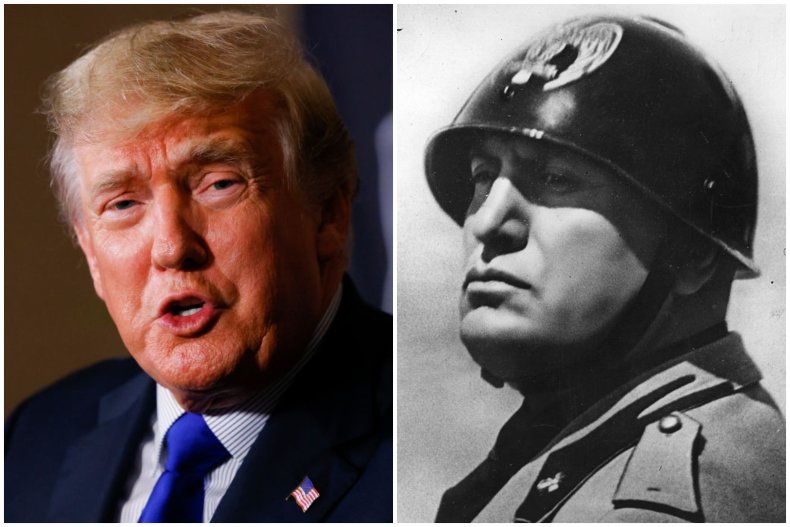 A split photo of Donald Trump and Benito Mussolini. Conspiracy influencers claimed that Donald Trump is Benito Mussolini's nephew. Getty
We, at Trump24h.com, collect and analyse data from newsweek.com.